Jewelry marked Sherman was manufactured in Canada between 1947 to 1981 and was made using fine Austrian crystal rhinestones. Metal on these pieces can be found in rhodium or gold plate although some was also japanned. Floral, wreath, and leaf themes were a popular choice for the company although they also made abstract and figural pieces. Pink, purple, fuchsia, and red are the most sought after colors and pieces with opaque stones are generally hard to come by. Rhinestone brooch and earring sets, as well as less intricate necklaces are common. Wide glitzy bracelets are a collector favorite. You may also find crystal beaded necklaces, bracelets and earrings by this company. Not all pieces are always signed so it is a good idea to familiarize yourself with comon elements and construction of this popular designer.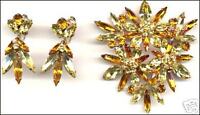 Topaz colors are less sought after but the brooch is large and sets bring more money.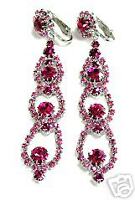 This is a sought after color and long earrings are of interest to collectors.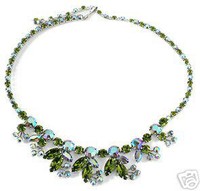 Aurora Borealis stones like the ones in this necklace are very attractive and Sherman jewelry with purple stones is highly sought after.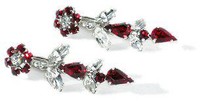 Deep red is always a favorite by Sherman collectors. The florette on the top of the earring is common to Sherman design.
Sherman manufactured beaded sets such as this one. Only the earrings are signed which means that there are likely a number of beaded necklaces out there being bought and sold without either party knowing that they are Sherman pieces.