Art Deco is known as a style or era relating to the years 1920-1935. Of course, it didn't start on January 1, 1920 and end at the stroke of midnight on December 31, 1935, but the years mentioned are when we see the strongest examples of Art Deco characteristics. As the Deco era approached and as it faded away, we see signs of it mixed in with the era that preceded it and the era that followed. These times are known as transitional times as one era transitions into another.
• • • • • • •
Costume jewelry from this time consisted of (but is not limited to):
geometric shapes
angles
strong lines
bright color contrasts
copied from expensive Paris examples
Czech jewelry
German jewelry made with sterling silver, dyed chalcedony (made to imitate chrysoprase), and marcasites
marcasites (faux and real) or what is known as marcasite that is actually pyrite
butterfly wing jewelry
speed related themes such as greyhounds, rockets, airplanes, etc.
Bakelite
Celluloid
filigree
enamel
"fruit salad" jewelry
real and synthetic gems such as jade, coral, onyx, mother of pearl, ivory, lapis, rock crystal, chrysoprase, carnelian, rubies, emeralds, smoky quartz, amozonite
dress clips
duettes
"white" metal made to resemble platinum, often rhodium plated
birthstone jewelry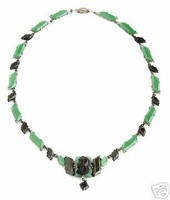 Art Deco Sterling Glass Cameo Necklace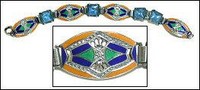 Enamel and Glass Stone Link Bracelet
• • • • • • •
Influences
Egyptian themes (following the discovery of the Pyramid tombs)
African and Japanese influences
modern technology influences (The Machine Age)
Jazz Age influences
Hollywood influences
the Paris Exposition - the International Exposition des Arts Decoratifs
the Russian Ballet
Cubism
the Bauhaus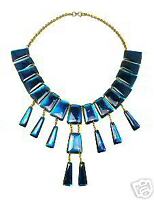 Vintage Egyptian Revival Enameled Bib Necklace

• • • • • • •
Art Deco Jewelry in Different Forms
long flapper beaded necklaces
Czech necklaces with angular glass stones and marcasites
long necklaces worn together with short chokers or wrapped around the neck once to simulate a choker look
faux pearls and glass beads
use of Venetian beads
amber beaded necklaces
rectangular pendants with "Lalique-like" crystals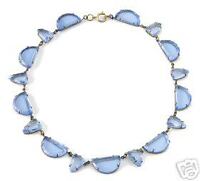 Czech Signed Deco Glass Necklace
Bracelets
many worn at one time on both wrists (as a symbol of fashion as well as status)
the "bangle" and the "tennis bracelet"
flexible link bracelets

Deco Red Molded Glass Bracelet
Earrings
long dangles worn with "bobbed" hair
screw-back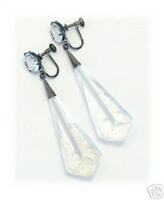 Art Deco Reverse Carved Sterling Crystal Earrings
Brooches and Pins
circle and oval shapes
"white" clear rhinestone pave set brooches
Florida theme (flamingos and palm trees)
Scottie dogs (Franklin D. Roosevelt had a Scottie dog in the 30's)
gazelles
arrows
air travel themes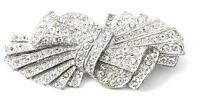 Clear Pave Set Vintage Rhinestone Brooch
Rings
use of large synthetic or semiprecious stones (commonly seen is chrysoprase or onyx)
filigree settings
rectangular shape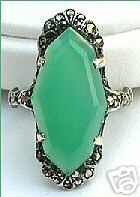 Sterling Marcasite and Chrysoprase Glass Deco Ring
Dress Clips
enamel
rhinestones / paste
worn just about everywhere on the body
a staple for the stylish woman
Green Glass Geometric Deco Dress Clip
Buckles
carved and molded glass
• • • • • • •
Sources:
Answers to Questions About Old Jewelry, 1840-1950 - 5th Ed by Jeanenne Bell, G.G. C. Jeanenne Bell, C. Jeanenne Bell (Producer)
Warman's Jewelry: A Fully Illustrated Price Guide to 19th and 20th Century Jewelry, Including Victorian, Art Nouveau, and Costume (2nd Ed) by Christie Romero
Guide created: 17/08/06 (updated 01/19/11)
This blog and all contents
Copyright © Vintage Jewelry Girl. All rights reserved.